87 Reggie Wayne, WR.
The four-time Pro Bowl player has taken the baton from Marvin Harrison, establishing himself as Peyton Manning's go-to receiver. Wayne caught 100 passes for 1,264 yards and 10 TDs in 2009.


17 Austin Collie, WR.
A first-team all-rookie selection, Collie's diligent work in the filmroom paid off. With 60 receptions and seven TDs, he's emerged as one of the league's most effective slot receivers.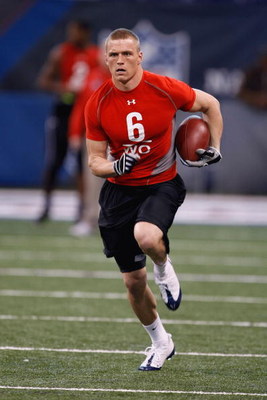 74 Charlie Johnson, LT.
Seen as the offensive line's weak link, Johnson has earned his coaches trust with versatility and toughness. The four-year vet has started 39 games the past four years.


65 Ryan Lilja, LG.
While the Colts continue to shuffle through guards on the right side, Lilja has been a rock on the left side since his rookie season. The five-year vet has started 59 games since 2004.


63 Jeff Saturday, C.
The four-time Pro Bowl selection


66 Kyle DeVan, RG.
Undrafted out of Oregon St. in 2008, the substitute teacher had been cut four times before the Colts came calling. DeVan won the starting job at mid-season and hasn't looked back.



71 Ryan Diem, RT.
Since his second season in 2002, Diem has been entrenched as a starter. The Pro Bowl snub was the lynchpin on a unit that allowed just 13 sacks, the lowest by a team in 10 years.


44 Dallas Clark, TE.
Peyton Manning's safety blanket led all tight ends with 100 receptions and 1,106 yards, throwing in 10 TDs for good measure. He earned his first All Pro and Pro Bowl selections in 2009.


85 Pierre Garcon, WR.
A second-year player, Garcon emerged as a down-field threat after Anthony Gonzalez' injury. The Colts' best after-the-catch receiver totaled 765 yards at 16.3 per reception.